LINECO is pleased to announce replacement LINECO Health Reimbursement Account (HRA) debit cards. The updated LINECO HRA Mastercard will be replacing the "Benny Card" in mid-December. All balances will be transferred to the new card and LINECO HRA benefits are NOT changing.
Your new card has a new look and a new account number. Your existing "Benny Card" balance will be converted to your new card by December 16, 2020.
Your new LINECO HRA card will be operational on December 16, 2020 and mailed to your home address. With your new cards, you will receive instructions on how to activate and use your card.
OLD Benny Card
NEW LINECO HRA Card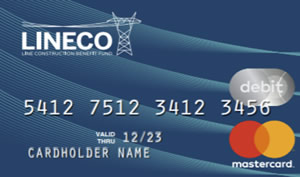 Activate Your Cards

Activate Your New LINECO HRA Debit Mastercard
Follow the instructions mailed with your new LINECO HRA Cards. You will need the last four digits of your SSN.
Track Your HRA Balance and Transactions

Desktop
Click here to activate your secure LINECO HRA account.
Enroll as a First Time User and follow the instructions to set up your account.

Mobile
Download the LINECO HRA app in the Apple App Store or Google Play Store.
Search For LINECOHRA, LINECO, or
Follow the Instructions To Set Up Your Account
Learn More About Your LINECO HRA Benefits